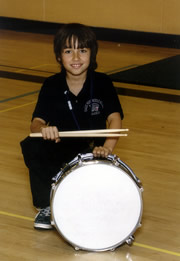 This site is dedicated to Frankie and the life he lived. His Uncle Kevin has set this up for all of us that knew Frankie to honor and remember him and the special boy that he was. For those of you that didn't know Frankie, hopefully you will come to know him through the stories, photos, and memories that are shared here. Please feel free to post your own special memories of Frankie, be it words, song lyrics, poems, or pictures. Hopefully, this place will help all of us heal.
Frankie was an 11-year-old boy who tragically died on Thursday May 25, 2006. He was playing a "game" known as "blackout, the asphyxiation game, or the choking game". We later learned that Frankie had learned this from friends at school, and that it is far too prevalent amongst our schoolchildren. Through Internet research, we discovered that children as young as 6 years old have died doing this. It entails using hands, a cord, or a cloth to cut off circulation around the neck. The child becomes dizzy, releases the pressure, and then experiences a "rush". Unfortunately, Frankie was doing this alone in his room, and it went too far. After heroic efforts on the parts of his mother, brother, neighbors, paramedics, and hospital staff, Frankie's life ended. Please, please, I urge you, speak with your child(ren) about this dangerous game, and help educate every single person you know so that this tragedy can be prevented from happening to another family. It's devastating, absolutely devastating.
How can I describe Frankie? In this last year as he began his transformation from boy to man, this adventurous, sensitive, kind boy developed a passion for skateboarding, playing the drums, paintball, swimming, the ocean, snowboarding, and wakeboarding. I'd like to share a special memory of Frankie with you, but right now my head is spinning with images of Frankie over the years, and all I can focus on at this time is his big smile, and his huge, giving heart. Frankie was sensitive, fun loving, adventurous, and so very kind to all those that knew him.
Frankie, we love you and miss you so very much. Your life ended much, much too soon. We will mourn you to the end of our days. You brought laughter, kindness, and love to all of us that knew you, and your death leaves a big hole in our hearts. Right now, we can't imagine that hole ever being gone. Frankie, as we think of you, we will always see your big smile and your generous caring spirit. We love you Frankie. Now and always.